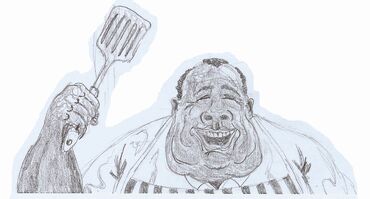 All Jolson is Ankh-Morpork's finest chef and its keenest eater - a combination made in mashed potato heaven. He got his nickname from the fact that no-one, seeing him for the first time, could believe it was All Jolson. He's the only man who shows up on an atlas and can affect the movements of small planets. He runs his restaurant on Broad Way.
He appears to be a good friend of Fred Colon (probably due to his prolific skills in the kitchen) and his ice cream in particular helped him out of a spot of trouble with over-zealous cart-clamping.
In Thud!, Fred Colon mentions a Precious Jolson with 'muscles on her like a troll'. In Snuff, it is confirmed that she is his daughter and that All is a Howondalandian immigrant to the big city. In Raising Steam, he bids on the contract to provide food on the railway line, knowing that what makes a good meal is "calories".
Annotation
Edit
All Jolson gets his name from Al Jolson, the US vaudeville performer who was voted the finest entertainer in the world in 1948. He was famous for his use of black make-up and was a big influence of Sinatra and Bing Crosby.
Community content is available under
CC-BY-SA
unless otherwise noted.