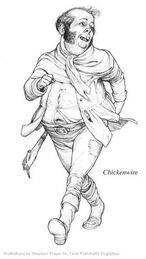 Chickenwire was one of the five criminals that Mr. Teatime employs in his attempt to get rid of the Hogfather. He was a technical innovator in the body disposal business. Reflecting on the inconvenience arising from people in concrete 'overshoes' rising to the surface piecemeal, he reasoned that by enclosing the victim in chickenwire the body would stay conveniently together long enough for the crabs to dispose of the evidence. Unfortunately for him, his childhood nightmare was to be locked up in the cupboard in the dark, which the tooth fairy/first bogeyman arranged for him in the Tower of Teeth. When Chickenwire was eaten by the wardrobe of his childhood nightmares, Violet, the Tooth Fairy's assistant comments" There are magic wardrobes, If you go into them you come out in magic land". This is a reference to the CS Lewis novel "The Lion, the Witch and the Wardrobe. Since there is no death in the Tooth Fairy's realm, Chickenwire did end up in a "magic land" as his body was transported out of the Tower to Unseen University and he ended up dead in the wardrobe of the Bursar at the Wizard's Unseen University.
Community content is available under
CC-BY-SA
unless otherwise noted.