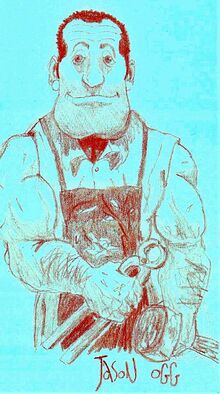 Jason Ogg is the smith of Lancre and first mentioned in Wyrd Sisters. Like all Smiths, he has power over iron. He can forge anything for the toughest job; once making a pair of secateurs for Tiffany Aching to cut particularly lethal toenails used by the Feegles as boomerang scythes. He follow the smithing protocol, and know how to keep a secret, especially in Lancre. The Smith in Lancre has a long-term contract and can shoe anything, and when anything shows up, he shoes it. Once some of the local lads brought him an ant to test his skill so he made the tools and spent a long night working over a powerful lens. The ant can still be heard, occasionally, clattering across the forge floor. A regular client at the forge is Binky, Death's trusty steed.
A smith is a kind of male witch: he knows things other people don't know (e.g., The Horseman's Word). He sums up the word as follows: "Well ... what happens is, I gets old of 'un and smacks 'un between the eyes with the hammer before'un knows what's happening, and then I whispers in his ear, I sez, 'Cross me, you bugger, and I'll have thy goolies on t'anvil, thou knows I can.'" Shortly afterwards talking to these vicious beasts behind the closed forge doors, he quietly leads out a strangely-docile and newly-shod beast. Jason has even applied the Word to a unicorn stallion prior to fitting it with silver shoes.
Jason is the eldest son of Gytha "Nanny" Ogg, Lancre Town's resident witch. Nanny is a small woman, so the connection can be easy to miss. Her little boy has "arms like tree trunks and legs like beer barrels stacked in twos". He likely takes after his father, the previous Lancre Town smith. Some people say Jason is a bit slow, because he doesn't say much but those people are usually surprised at some point.
Jason is also the unofficial town sheriff because of his large physical presence. He can break up pub fights by picking up one contestant in each hand and banging them together if necessary. He also takes a leading part in the Lancre Morris Men who treat Morris dancing as something between a contact sport and a martial art. as well as the local folk-dancing, the little theater and the Scumble tasting society. He plays fiddle for the Morris Men.
Years of working with iron has also given him the ability to detect the presence or influence of elves, although he does not seem to be aware of this. He is also the leader of the Lancre Morris Men,
Community content is available under
CC-BY-SA
unless otherwise noted.