Welcome to Discworld Wiki!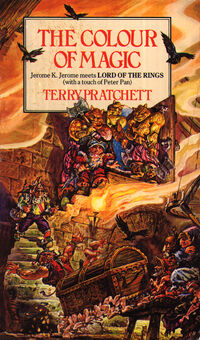 Discworld is a comedic fantasy book series by Terry Pratchett.
The novels are set on the Discworld, a flat world balanced on the backs of four elephants which, in turn, stand on the back of a giant turtle, Great A'Tuin. The books frequently parody, or at least borrow ideas from, J. R. R. Tolkien, Robert E. Howard, H. P. Lovecraft and William Shakespeare, as well as mythology, folklore and fairy tales, often using them for satirical parallels with current cultural, technological and scientific issues.
The novels have won awards such as the Prometheus Award and the Carnegie Medal. In the BBC's Big Read, five Discworld books were in the top 100, and a total of fifteen in the top 200. The novels have inspired other works such as video games, as well as a new TV series titled The Watch.
The Novels
The Discworld series of novels has created an enormous universe to explore, with many characters, locations, and phenomenon bursting off the pages! With 36 novels in the series, there is much to explore on this wiki, and we aim to document all the facts and mysteries the novel series has to offer.
The Watch
The Watch is a fantasy-police TV series airing on BBC America, based off best-selling novels by Terry Pratchett. Set in the fictional city of Ankh-Morpork, where crime has been legalized, the eight-part series centers on a group of misfit cops as they rise up from decades of helplessness to save their corrupt city from catastrophe. The series is airing weekly on BBC America!
Twitter
Featured Picture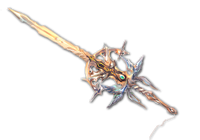 Fantasy Literature
Go to these sites for info or for help with your own wiki!
A Court of Thorns and Roses • A Song of Ice and Fire • All Souls Trilogy • Beyonders • The Black Company • The Brotherband Chronicles - Ranger's Apprentice - Royal Ranger • The Dark Tower • Deltora Quest • Discworld • The Dragonriders of Pern • The Dresden Files • Fablehaven • The First Law • Grishaverse • His Dark Materials • Inheritance Cycle • The Kingkiller Chronicle • The Land of Stories • The Magicians • Malazan Book of the Fallen • Mistborn • Shades of Magic • Shannara • The Spiderwick Chronicles • The Stormlight Archive • Sword of Truth • Throne of Glass • Wheel of Time • The Wicked Years
Want your community included? See how!