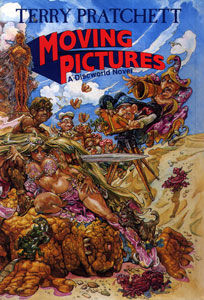 Moving Pictures is the name of the tenth Discworld novel by Terry Pratchett, published in 1990. The book takes place in Discworld's most famous city, Ankh-Morpork and a town called "Holy Wood". The book uses the name as a thin veil to aim at the Hollywood world and its problems.
Plot introduction
[
]
The alchemists of the Discworld have invented moving pictures. Many hopefuls are drawn by the siren call of Holy Wood, home of the fledgling "clicks" industry – among them Victor Tugelbend ("Can't sing. Can't dance. Can handle a sword a little."), a dropout from Ankh-Morpork's Unseen University and Theda "Ginger" Withel, a girl "from a little town you never ever heard of", who become stars, and the Discworld's most infamous salesman, Cut-Me-Own-Throat Dibbler, who introduces commerce to the equation and becomes a successful producer. Meanwhile, it gradually becomes clear that the production of movies is having a deleterious effect on the structure of reality.
Trivia
[
]
While unlikely (considering the events between Eric and Interesting Times), it could possibly be argued that Rincewind makes a cameo of sorts, at least obliquely. At one point, an unknown person speaking in Borgle's commissary refers to a wizard appearing in a moving picture; when another person points out that there are no wizards in Holy Wood, the first responds "Oh, this one's all right. He's not very good at the wizarding."
See also
[
]
Translations
[
]
Подвижни образи (Bulgarian)
Pohyblivé obrázky (Czech)
Rollende Prenten (Dutch)
Liikuvad pildid (Estonian)
Elävät kuvat (Finnish)
Les Zinzins d'Olive-Oued (French)
Voll im Bilde (German)
ראי-נוע (Ra'ay No'a) (Hebrew)
Mozgó képek (Hungarian)
Stelle cadenti (Italian)
Levende bilder (Norwegian)
Ruchome obrazki (Polish)
A Magia de Holy Wood (Portuguese - Brazil)
Движущиеся картинки (Russian)
Pokretne slike (Serbian)
Imágenes en Acción (Spanish)
Rörliga bilder (Swedish)
Hareketli Resimler (Turkish)
External links
[
]
! colspan="3" | Reading order guide