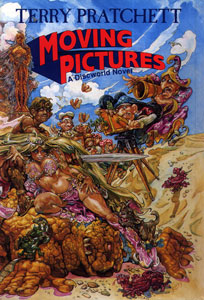 Moving Pictures is the name of the tenth Discworld novel by Terry Pratchett, published in 1990. The book takes place in Discworld's most famous city, Ankh-Morpork and a town called "Holy Wood". The book uses the name as a thin veil to aim at the Hollywood world and its problems.
Plot introduction
Edit
The alchemists of the Discworld have invented moving pictures. Many hopefuls are drawn by the siren call of Holy Wood, home of the fledgling "clicks" industry – among them Victor Tugelbend ("Can't sing. Can't dance. Can handle a sword a little."), a dropout from Ankh-Morpork's Unseen University and Theda "Ginger" Withel, a girl "from a little town you never ever heard of", who become stars, and the Discworld's most infamous salesman, Cut-Me-Own-Throat Dibbler, who introduces commerce to the equation and becomes a successful producer. Meanwhile, it gradually becomes clear that the production of movies is having a deleterious effect on the structure of reality.
Translations
Edit
Подвижни образи (Bulgarian)
Pohyblivé obrázky (Czech)
Rollende Prenten (Dutch)
Liikuvad pildid (Estonian)
Elävät kuvat (Finnish)
Les Zinzins d'Olive-Oued (French)
Voll im Bilde (German)
ראי-נוע (Ra'ay No'a) (Hebrew)
Mozgó képek (Hungarian)
Stelle cadenti (Italian)
Levende bilder (Norwegian)
Ruchome obrazki (Polish)
A Magia de Holy Wood (Portuguese - Brazil)
Движущиеся картинки (Russian)
Pokretne slike (Serbian)
Imágenes en Acción (Spanish)
Rörliga bilder (Swedish)
Hareketli Resimler (Turkish)
External links
Edit

! colspan="3" | Reading order guide
Community content is available under
CC-BY-SA
unless otherwise noted.