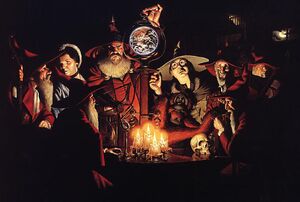 Paul Kidby (born 1964) is an English artist. He was born in Northolt and is currently living and working in Fordingbridge, New Forest. Many people know him best for his art based on Terry Pratchett's Discworld, which has been included as the sleeve covers since Josh Kirby (another English artist who is often confused with Kidby) died in 2001.
He drew a lot during his childhood and adolescence, but left school with few qualifications to his name.
Later Kidby was trained as a dental technician making false teeth, but abandoned this to become a freelance artist in 1986. He produced artwork for a variety of products ranging from video film sleeves to computer game packaging.
Between 1991 and 1995 Future Publishing employed him and he designed and painted more than 200 magazine covers.
In 1995 he started working exclusively for Terry Pratchett's Discworld series, and his Discworld art, and many descriptions of the pieces, are included in The Pratchett Portfolio (1996) and The Art of Discworld (2004). These showcase full versions of work and some paintings previously unseen. He also illustrated The Last Hero, a Discworld "fable" and number one bestseller in the UK, selling more than 235,000 copies.
His art is in several cases a tribute to (or a parody of) well known paintings such as the Mona Lisa by Leonardo da Vinci , Night Watch by Rembrandt and An Experiment on a Bird in the Air Pump by Joseph Wright.
External links
[
]
Notes
[
]