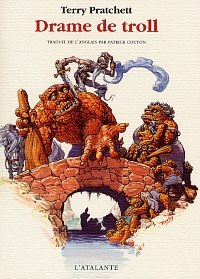 Troll Bridge is a Discworld short story, written by Terry Pratchett in 1991 for a collection entitled After The King: Stories in Honour of J.R.R. Tolkien.
The story stars Cohen the Barbarian, who plans to prove himself by killing a troll in single combat. Instead however, he and the troll find themselves reminiscing about how the Discworld used to be, when trolls all hid under bridges to be killed by heroes, and there weren't farms all over the place. In other words, as encroaching civilisation tames the landscape the environment required for "typical" fantasy adventures disappears, until characters such as Cohen become mythical. This would be further explored in Interesting Times and The Last Hero.
Specific Tolkien references include a spider-haunted forest similar to Mirkwood, which the troll's brother-in-law plans to sell to a lumber yard, and a long ago war which Cohen barely remembers, but which bears some similarity to the War of the Ring.
A movie of Troll Bridge is in production by Snowgum Films.
Translations
Edit
Language
Title
Round-trip translation
Anthology
Notes
Czech
Trollí most
Troll Bridge
Divadlo krutosti
Croatian
Trolov most
Troll's Bridge
Monolith 005
French
Drame de troll
Troll Drama
Not in an anthology
German
Troll Dich
Sod off
Das Grosse Lesebuch der Fantasy. (1995)
German
Die Trollbrücke
The Troll Bridge
Polish
Trollowy Most
Troll Bridge
Not yet published
Russian
Мост троллей
Troll Bridge
Spanish
El Puente del Troll
The Troll Bridge
Homenaje a Tolkien
References
Edit
Community content is available under
CC-BY-SA
unless otherwise noted.