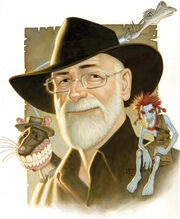 Discworld is a world and a mirror of worlds, a world somewhere that appears to be a little bit here, and there and yet strangely familiar. Sir Terry Pratchett, acclaimed author of the Discworld series, has an untameable imagination that draws you into a befuddled universe full of riddles, action and adventure. The Disc is a world full of mystical yet chaotic cultures and communities which often mimics those of our own world.
There are 39 books in the series, but no particular order in which to read them. These books are made for enjoyment and escapism with a few philosophical conundrums thrown in for good measure. While each of the books is a separate adventure, there are many characters that make appearances throughout the series; allowing you to follow the trials, triumphs and misfortunes of their haphazard lives.
Sir Terry Pratchett has given adults everywhere an open invitation to escape into a colorful universe and take a look back at our own with different eyes. From beginning to end, each book has the warmth and humor of the last. The author has portrayed his characters beautifully and with copious amounts of humor and fun. While it is natural that Death should be feared, you can't help but warm to him, after all, he's got a dirty job and it's not surprising that a life of drinking and fast food would be more appealing. You will be guilty of having empathy for the most hardened criminal and find yourself championing the reluctant hero.