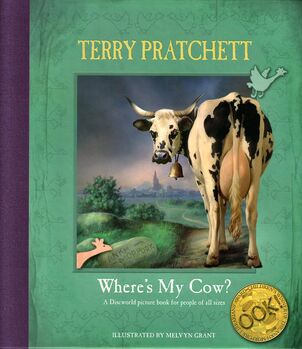 Where's My Cow? is a picture book written as a companion book to the Discworld series. The book details Duke of Ankh, Commander Sam Vimes reading to his son, Young Sam.
The plot of the story involves a lost cow and the subsequent search for it's location. The book follows the format of many books for small children, relying on word repetition, sounds that a small child can make and a search for something lost. The classic 1960s children's book Are You My Mother? by P. D. Eastman is probably the best example of the style and spawned many imitators including the new classic, This is not my Hat by Jon Klassen. Where's My Cow, like the others, follows a rigid structure, in the pattern that follows:
Is that my cow? It goes "HRUUUGH!" It is a hippopotamus! ... No, that most certainly is not my cow.
Whether Pratchett patterned his book after Are you My Mother or any others in this style of books or is simply well aware of the genre is open to speculation, but like literary parents everywhere, he is likely to have read this type of book to his daughter.
Sam Vimes has an unbreakable rule, first mentioned in Thud! of always reading Where's My Cow? to Young Sam at 6:00 pm before his bedtime. Small children thrive on repetition and routine, so Sam does everything humanly possible to get home in time to read to Young Sam, even racing through the streets in a coach in what initially appears to be a high speed police chase type scene reminiscent of TV and movie police shows everywhere. This becomes very important by the end of the book where, though being possessed by the Summoning Dark and battling deep-down dwarfs, he screams the words so loudly that his son can hear them from miles away. As well, like all parents who have read these books ad infinitum to their children, Sam gets to the point where he doesn't want to hear the words again so changes them to something new and less appropriate - much to the chagrin of his wife and Young Sam. After the publication of Thud!, an actual version of the book was made available, complete with Vimes' Ankh-Morpork annotations.
On the cover, it has the badge of the Ankh Morpork Librarian's Award.
Community content is available under
CC-BY-SA
unless otherwise noted.